Sail Your Way - Lowest Rates + 50% Off 3rd & 4th Guests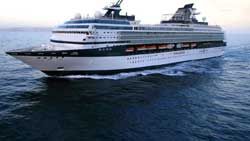 Sail Your Way - Lowest Rates + 50% Off 3rd & 4th Guests. Hurry! Limited Time Only
3 WAYS TO BOOK THE BEST PREMIUM CRUISE LINE
Book a 4-night or longer cruise vacation now through May 1, 2019 and the choice is yours. From value to convenience, there are three amazing options to Sail Your Way.
1. Sail - Lowest Available Fare
2. Sail PLUS - TWO Perks
...

Celebrity Cruises' iconic "X" is the mark of the world's top–rated premium cruise line, with spacious, stylish interiors; dining experiences elevated to an art form; personalized service, with a guest–to–staff ratio of nearly 2:1; unexpected, trendsetting onboard activities, all designed to provide an unmatchable experience for vacationers' precious time. Celebrity sails to Alaska, Asia, Australia/New Zealand, Bahamas, Bermuda, Canada/New England, the Caribbean, Dubai & India, Europe, Hawaii, th
...
Multiple dates and itineraries available